Cross-country ski-runs
Yesterday, 09:34
Current operation: every day
Cross-country map of Freudenstadt Baiersbronn with 100 km of trails to enjoy. Two tracks are equipped with flood lights on a total length of 5 km and illuminated up to 22:00 o´clock. The long distance cross-country trail from Freudenstadt passing by Kniebis-Zollstock-Schliffkopf-Ruhestein-Seibelseckle until Herrenwies is a fantastically beautiful trail with great views of the Rhine Valley with a length of 50 km. The Kniebis Night trail is due to articifally snow a snow-safe trail in the northern Black Forest, usually from December to late March.
A DSV cross-countryski center with 15 km slopes and different levels of difficulty are in Obertal-Buhlbach. 2.5 km of which are lighted every day to 22.00 o´clock.
---
Prices
For the slopes is no fee, except for the 2 tracks on Seibelseckle.
---
Current cross-country ski run info
Website

E-Mail

Telephone

+49/(0)7442-84140
Cross-country ski-runs
Overview
11
classic cross-country ski-runs
80 km
Die Loipen im Tal befinden sich zwischen 500 m und 700 m Höhe
4
High trails
40 km
Skifernwanderweg mit einer Länge von 50 km
2
Floodlit cross-country ski runs
5 km
Kniebis und Obertal Buhlbach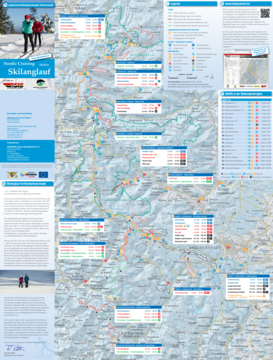 Various
Sport Frey, Sport Faißt, Sport Klumpp
Cross-country ski Service
Sport-Frey, Sport Faißt, Sport Klumpp
Contact
Tourist information office
Baiersbronn Touristik
Address

Rosenplatz 3, D-72270 Baiersbronn

Telephone

+49/(0)7442-84140

Fax

+49/(0)7442-841448

E-Mail

Homepage